Planetary Herbals was created by a number of herbal specialists, with more than 1,000 years of combined experience, whom predominantly focused on creating natural medicines.
Alan Tillotson, Jill Stansbury, Lesley Tierra, and Michael Tierra are the main people behind their creation.
Planetary Herbals have a strong philosophy that every product they make is carefully designed for promoting better wellness and health.
Every formula skilfully blends modern practices as well as traditional ones, as well as using quality ingredients and extreme attention to detail.
Products
Açaí Full Spectrum
Açaí is a palm from the Amazonian rainforest. It has small, purple fruits that have been used by Brazilian natives for food and health for hundreds of years.
The active constituents in Açaí Full Spectrum are polyphenols and anthocyanins, powerful antioxidants that benefit the entire body by protecting cells from free radicals.
Bacopa Extract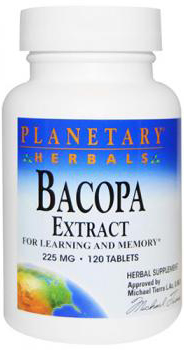 Bacopa Extract has been revered for centuries in the Ayurvedic herbal tradition of India to enhance clear thinking and support memory function.
Studies have shown that Bacopa supports learning and memory in humans, provides antioxidant protection for critical memory centres and helps to reduce the effects of stress on the brain.
For both young and old, Bacopa is ideal for those wishing to enhance their memory potential.
View Planetary Herbals Products
Quality MaintenAnce
Planetary Herbals are very strict when it comes to maintaining top quality standards. They employ seasoned professionals to make sure that they oversee every step during the production process.
Every batch goes through rigorous checks to ensure that they are free from additives, pollutants, and impurities. Because of these strict measures, they've been able to ensure that their products are effective as possible while retaining their ingredient's natural integrity.