Maintain a Healthy Prostate
Nicola Burkinshaw examines the role of the prostate and the associated health issues.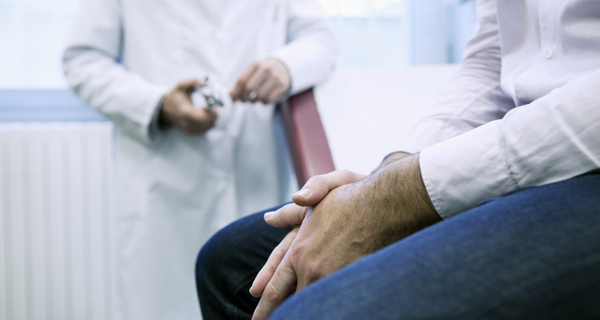 At a certain age, the minds of many men turn to their prostate. This innocuous little gland can be the source of a great deal of anxiety, particularly when a change in bodily function is noticed. However there remains an awful lot of ignorance about possible prostate problems.
The Function of the Prostate
The prostate is a gland that sits below the bladder surrounding the urethra; it is a little smaller than a golf-ball. Its function is to produce the fluid that protects semen when it is ejaculated. Therefore any problems with the prostate are usually identified because of symptoms relating to either urination or intercourse. It is perfectly normal for the prostate to get larger with age and for the majority of men this presents no problem. In fact, many prostate related conditions either present no major health issue or are easily treated; which makes it even more important to get checked so you can put your mind at rest.
Illnesses Associated with the Prostate
There are a number of symptoms that generally point to some sort of problem involving the prostate. These include a frequent need to urinate, difficulty and pain in urination, and pain during intercourse. Occasionally lower back pain and blood in the urine can also be a sign of a prostate problems. If you are experiencing any of these symptoms you should make an appointment with your GP who will be able to diagnose you.
Benign Prostatic Hyperplasia (BPH)
As mentioned before, an enlarged prostate doesn't necessarily cause an issue. However, BPH occurs when the prostate begins to squeeze the urethra, which can make urinating difficult.
Prostatitis
Prostatitis can show through symptoms such as: pain in the pelvic region or testicles, pain on ejaculation and perineum pain when sitting on hard surfaces. It can also result in pain during urination but this can be a symptom of urinary infections as well. Around 15% of men will suffer from this condition at some point and it is most frequent in men between thirty and fifty.
Cancer of the Prostate
It is impossible to talk about prostate health without approaching the grave issue of cancer. It is sadly true that more than 40,000 men in the UK are diagnosed with prostate cancer every year; it is significantly more common in men of Afro-Caribbean descent. In the region of 10,000 men in the UK die from the condition each year. However many men who are diagnosed continue to live healthy lives with no symptoms at all. It is understandable that many men suffering from urinary problems or pain during sex will put off visiting the doctor, but it is important to overcome this fear. Diagnosing what is causing the issue will empower you to deal with it through medical treatment or life-style changes.
Available Treatments
If you are diagnosed with an enlarged or an inflamed prostate the treatment will depend on the severity of the problem. For many men, the advice will be to have regular check-ups and improve their diet and life-style. In more advanced cases, surgery or medication may be offered.
What You Can Do to Help Keep Your Prostate Healthy
As with most things, the key to a healthy prostate is healthy living. A high protein diet formed from low fat white meat, fish, eggs and pulses is recommended, as is increasing your intake of fruit and vegetables. Exercise and a limited alcohol intake can also help protect the prostate. Vitamin D3 can also help support the healthy growth of prostate cells.
To help relieve the symptoms of an enlarged prostate, there are various supplements available. In recent Japanese clinical studies, Cernitin Pollen Extract was demonstrated to ease symptoms such as difficulty urinating, as it appears to reduce the growth of prostate cells. In Germany, Saw Palmetto is often prescribed as a possible aid to slowing down prostate enlargement, and it is believed that lycopene provides an antioxidant that helps defend the prostate tissue. The Ayurvedics use Boswellia (or Indian Frankincense) to reduce inflammation and enlargement.
Adding an appropriate supplement to your diet and making small but permanent life-style changes will allow you to feel confident that you are doing all you can to protect yourself and your prostate.
Bill Bailey and a host of other celebrities have signed up to Men United to try to spread awareness and understanding of prostate cancer. You can support them by taking the prostate quiz at https://menunited.prostatecanceruk.org. Every time someone completes the quiz, Keyline will donate 50p to Prostate Cancer UK.